Vending Services
GAMC Supports and Protects the Interests of the Georgia Vending and Refreshment Services Industry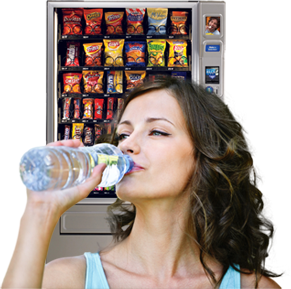 The vending machine business has grown considerably since its beginning and has evolved to meet market needs.  You will likely have a wide and varied list of products to purchase through vending machines.  In the beginning, the vending business only had two types of vending machines: soda vending machines and candy vending machines.
Today, there are many types of vending machines:
Soda Vending Machines
Candy Snack Vending Machines
Coffee Vending Machines
Cold Drink Vending Machines
Hot Drink Vending Machines
Refrigerated Vending Machines
Freezer and Frozen Product Vending Machines
Gumball Vending Machines
Toy Vending Machines

There is an amazing variety of vending machines available.
Despite the many variations of vending machines, they all operate on the same concept: exchange of money for product.  Determining the type products you want your employees to have available is an important step in preparing for the conversation with potential providers.
Be realistic with your goals for your vending requests.  The size of your company in terms of the number of employees that will have access to the equipment will be a large part of what determines what can be provided.  The cost of equipment and product for the provider and a clear idea of what sales are projected for a particular installation will drive what they can provide as a reasonable business offering.